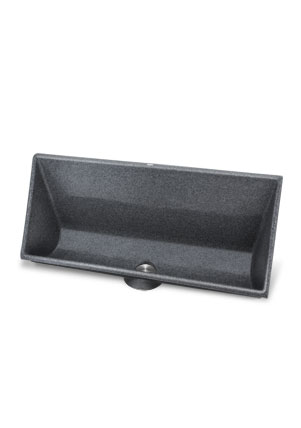 Crew
Designer: uridan a/s
Material: Glass reinforced plastic (GRP)
Servicing (change of blocking fluid): Approx. 10-12 weeks

Installation: horizontal or vertical waste
The uridan Crew waterless trough urinal is ideally suited for venues catering for a large number of males. The simple shape and smooth, rimless surface make the urinal easy to maintain, delivering a high level of hygiene in amenities.
 The robust and resilient fibreglass material provides protection against vandalism and the extra large waste trap makes this trough urinal particularly easy to maintain. Widely used in sporting venues, entertainment centers, demountable buildings, and schools, the Crew is available in three lengths: 1200mm, 1800mm, and 2400mm.
Colours: plus special colours

Granite

Stone Nero
Sporting venues
Education
Hospitality
Demountable buildings
Brochures
Installation Instructions
3D Files
REVIT files
Complete the form below to request REVIT files.
* Indicates field is mandatory
Need more information about this product?
Looking for the Consumables Store?